Check for skin
cancer with your
smartphone
2 in 3 Australians
will be diagnosed
with skin cancer
Source: Cancer Council, Australia
of common skin cancers can be treated successfully if detected on time
Source: American Osteopathic College of Dermatology
Quick and convenient
Download our app, and take a photo of a skin spot on your smartphone.
Our technology analyses your photo and gives you an instant risk recommendation and advice on what you should do next.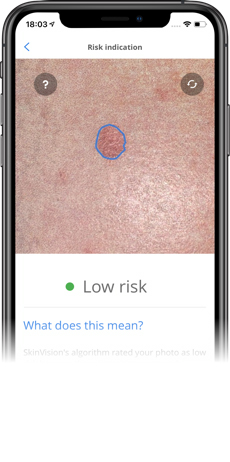 Reliable
We assess your photo using our clinically validated algorithm.
Recent studies show it has a sensitivity of 95% in detecting the most common types of skin cancer.
Track your skin spots
Set skin check reminders and save photos of your skin spots, so you can look for any changes over time.

Regulated and certified
SkinVision is a certified medical service.
We are also ISO certified for Information Security and Medical Device Quality Management.
Richard Pollit, 78
Sydney
Casey Armstrong, 34
Country Victoria
Peter Wilson, 68,
Melbourne
"Thanks to SkinVision, everyone can keep an eye on their skin and find the right care on time."
$79.99 a year
Equivalent to $6.66 a month
3 Months unlimited checks
$39.99
Equivalent to $13.33 per month
You are joining nearly 2 million people that use SkinVision to keep their skin healthy.
Skin Cancer Risk Cases Detected
Ready to
check your skin?