It's easy to remember skin protection when the sun is out or when you're headed to a beach holiday, but on the cloudy days or during the winter doldrums, many often forget to apply sunscreen. It's important to remember that the sun can still do damage in the winter.
Skin protection is something to stay vigilant about year-round. Whether you're reading this in Australia during the wintertime, or Europe during mid-summer, we'll go into how UV rays impact the skin and how to protect ourselves.
UV rays and how they affect our skin
The Skin Cancer Foundation notes that up to 40 percent of the sun's UV rays reach the earth on a cloudy day. The sun emits three different types of UV rays: UVC, UVA, and UVB. UVC rays are the most powerful but rarely get through the earth's atmosphere, which means they have minimal roles in skin cancer incidences, and it's also why we don't hear about them all that often.
UVB rays are responsible for most of the skin damage and contribute significantly to the development of skin cancer. These are the rays that penetrate the top layers of our skin and cause burning and delayed tanning. According to the World Health Organization, UVA rays account for approximately 95 percent of the UV radiation that reaches the earth's surface. These rays penetrate to the deeper layers of the skin, creating an immediate tan.
UVA rays are also primarily responsible for wrinkles and skin again, and evidence suggests that they contribute to the development of skin cancer as well.
The key thing to remember about UV rays is that they can penetrate through clouds, glass, and smog, which means that SPF protection is vital year-round, even if you're only making a short commute during the week.
Where We Are Feel Good Inc. comes in
At SkinVision, we believe in sticking to a comprehensive solution for skincare, meaning that skin cancer prevention should come into play in many aspects of your life.
Aligned with our mission to save lives from skin cancer, this innovative Australian company is focusing on skin cancer prevention by creating high-quality sunscreen products that feel great without compromising sun-protection. All of their sunscreens and zincs products are SPF 50+ broad-spectrum!
"We believe life is all about feeling good. We wanted to create a product that our families could use and totally trust. We wanted a product that was Australian made and 'got' our Aussie lifestyle. Because no one likes that sticky post-sunscreen feel – we wanted a product that felt good on our skin from the moment it was applied till hours of fun later." – We Are Feel Good Inc. founders.
SkinVision is partnering with We Are Feel Good Inc., and they've offered all SkinVision readers a 20% discount* on their premium sun-protection products, with the promo code "SkinVision." Head to their site here.
We believe in providing a safe and high quality service, which is why we love that We Are Feel Good Inc. is also TGA approved. All of their sunscreens have an Australia License Number.
*The offer is valid until December 31 2020, one per customer. No minimum order but cannot be used in conjunction with any other offer.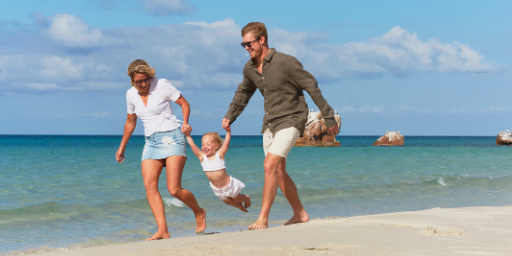 Six extra tips to keep your skin protected:
UV rays are strongest between the hours of 10 am and 4 pm. Re-apply sunscreen every couple of hours or as you sweat or get wet, seek shade and/or layer up with clothing and wide-brimmed hats if you are outside during this period.
While the sun is damaging year-round, indeed, summer (and now spring) generally show higher UV ray readings than autumn and winter, so it's especially important to apply sunscreen and keep your hat close by during these periods.
UV rays are stronger at higher altitudes, so be especially careful if you're in the mountains or at a higher elevation. According to the Skin Cancer Foundation, UV exposure increases 4 to 5 percent for every 1,000 feet of elevation, meaning UV radiation can be 35-45 percent more intense at an altitude of 9,000-10,000 feet than at sea level. If you are skiing in the mountains, be aware that the reflection from the snow also increases UV exposure.
The same goes for the equator. The UV radiation is stronger at the equator because the sun is closer to the earth's surface, so pay extra attention if you're in countries near the equator as well.
Some sunscreens only protect against UVB rays and don't block the also damaging UVA rays. That's why you should always use a broad-spectrum sunscreen. This type protects you against both UVA and UVB rays.